Last weekend I helped plan a baby shower for a good friend who is expecting a boy. You would think we're starting our own boys club here since we now have about 10 boys and growing among our play group and just 4 girls!
I was in charge of decorations, games, and party favors. And if it isn't already evident here here and here that I love party planning, you can check out below some small simple ideas I used to make the shower fun! I absolutely love Pinterest, because I can always find some sort of free printable page if not great inspirational ideas to work off.
Firstly, for decorations I had the photobooth props leftover from my Valentine's party last February and figured the mustaches and bow ties worked for a baby boy shower. I also found some adorable chalk print signs we used for the photo booth courtesy of The Phillips Family blog. Then I found a template for making a onesie banner, it was perfect for the simple yet adorable look I was going for. Michael's was having a sale on their craft paper 6/$1 so I grabbed a bunch that went with our theme and put my scissors to work. I liked how on the original design they had used clothes pins to hang the onesies like hanging baby's clothes to dry. But, upon finding that clothes pins are ridiculously over priced and won't ever be used again I went with a simpler option: Punch holes through the onesies and thread the ribbon through.
Next were the party favors. I just could not decide what I wanted to do! In the end since I'm a huge chocolate fan and so are most of the girls who attended the shower; I indulged in our sweet tooth. I filled the favor bags with chocolate truffles and also made some baby shower themed chocolate candy using a Wilton melts template I had at home. Michael's also has a baby shower section where they had a bag of 'It's a boy' themed Hershey's kisses. I tried finding some cute baby themed favor tags for a reasonable price but the ones at the dollar store were cheap looking and Michael's was too over priced. So I made my own using extra paper I had got for the onesie banner. I love when I can recycle ideas! I found at Michael's the chalk print stickers on sale for just $.89, originally like $3! Then I added a few more cute baby boy themed bottle and rattle stickers to tie it all in to the theme.
A pretty important part of baby showers are the games! To keep it fun without going too crazy we decided to play three games. 1) Design a Onesie 2) Guess Mommy's Answers 3) A-Z baby words. We had a lot of kids at the party and it just wasn't practical to play any relay race baby food feeding games and frankly none of us wanted to do that anyway! The first game was a fun arts and crafts activity that the kids helped with too. I had the girls decorate onesie templates I printed out using stickers, crayons, colored pencils and the extra patterned sheets I had gotten from Michael's. They wrote a small message to mommy and baby on the back so she could later add these to the baby's book and I had mommy be the judge for the Best Onesie Design which won a prize. While everyone was working on the first game I had mommy fill out her own answers for the second game. Even though the first game took more time, the other two were quick and fun to see what wacky words everyone came up with! For the Baby ABC's instead of matching mommy's words again, I gave everyone 1 minute 30 seconds and whoever had the most correct baby related words won.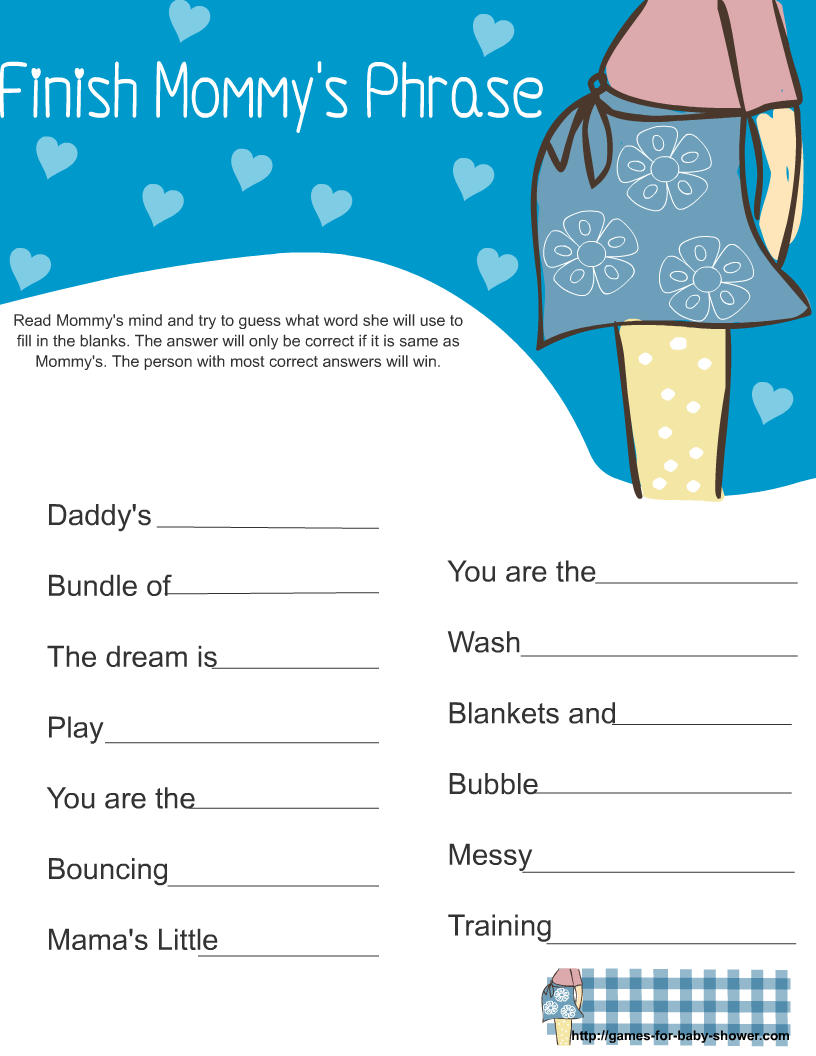 via Google Search 'Baby Shower games'
Lastly, I decided no shower is complete without a diaper cake! Using unused diapers from my own shower cake earlier this year, some baby themed ribbon from the dollar store (way cheaper than Michael's and they even had 'it's a boy' ribbon) and a bag of rubber bands to roll up the diapers, it took me just one of Adam's naps to complete this cake! To decorate it I got a classic rattle and found some cutie booties and a teddy bear around the house. Diaper cakes are fairly simple to make, but just to be prepared I watched this video before I started.
Voila!
our photo booth station
You know I love me some chalkboard!
It was a potluck so we ended up having a huge variety of some pretty delicious dishes!!